The following is part three of a five-part series.
Taken from John Immel's third session at the 2017 Conference on Gospel Discernment and Spiritual Tyranny
~ Edited by Andy Young
---
What we have just witnessed over the last two parts of this series is how Calvinists use the various arguments to compel you down a specific line of thinking. Paul Dohse's discussion on the redefinition of Biblical terms is fantastic because Calvinists manipulate definitions so that they can define an alternate reality. They presume the right to define words however they choose so that it fits whatever narrative they are after, and that narrative is always driving you towards your subordination to whatever their dictates are.
In part one of this series I discussed the Orthodoxy Happy Dance- their ability to take the definition of orthodoxy and make it mean as much or as little as they choose. Whatever the historical or intellectual pedigree happens to be, they reserve the right to pick and choose which parts serve their purpose. In the end, this makes orthodoxy a myth because it ends up having no objective definition.
Then we talked about how Calvinist use Universal Guilt, Dictated Good, and Incompetent Masses as intellectual standards to control how you interact with them. If you are incompetent then you are guilty, therefore they have the moral right to compel you to a given action.
But another problem is revealed the moment Calvinists encounter anybody with any ambition or anyone who refuses to suborn to the collective. Therefore, in order for them to maintain their control over you, they must force you to find your identity in the collective, which means you must be willing to abandon any personal ambition or notion of your individuality.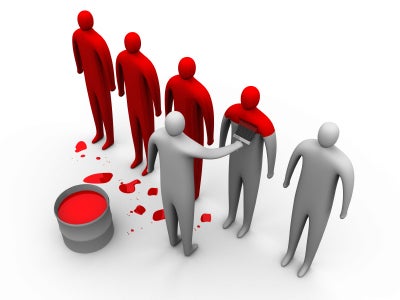 Collective Conformity is effectively "political correctness." It is a powerful force in service to tyranny- when somebody decides that the definition of the collective, and failure to abide by the collective, can be met with some sort of social force. When you want select people to think you are good, when you crave their affirmation, when you play by their rules so that they might commend you as a worker of God, this is collective conformity.
But living for someone else's affirmation means you cannot value your own moral and intellectual judgment. You are irreparably harming your critical powers. Thinking is your human responsibility. Despotism gets its energy from mentally weak mobs. Despots must oppress ideas because thy must render the human mind impotent. Mystic despotism thrives because people feel it more important to conform to the group than to think for themselves.
Here are some of the common arguments that people use to force you into social conformity. In general, these arguments are designed to imply that the individual is epistemologically and physiologically dangerous; that individuals are predators; that individuals are without real purpose; that individuals are selfish.
The "Lone Wolf" Argument
It is designed to conjure the image that wolves are effectively predators. Therefore if you are by yourself you are necessarily a predator. This is known as the "loaded question fallacy." To defend the individual is to defend a harmful instinct. If I reject the notion that just because I am an individual that I am dangerous, I am immediately considered dangerous.
But more importantly, it is an argument that is not based in reality. The fact is, wolves are highly territorial pack animals. If you are a wolf, you are running in a pack. Wolves are governed by the "alpha" male and female, so wolves live in a hierarchical structure. If a wolf finds itself alone it is because it has been driven away by the pack because it is weak or diseased or infirm. Lone wolves are not dangerous peak predators, they are the ones driven out.
If you want a better analogy of a lone wolf, look at the preachers who used to be part of the Calvinist "in" crowd but suddenly find themselves on the outs after having run afoul of whatever the accepted behavior is as determined by the other "alpha" male preachers in that crowd. Or consider those who have had to resign their posts after being exposed for some sort of sexual indiscretion. Those are the lone wolves still trying to vie for a position back in the Calvinist collective.
The other problem this argument brings is that it presumes that a pack isn't predatory; that if you are part of a group you won't do predatory things. Wolves by definition are predators. They survive by preying on weaker animals and consuming them. They hunt in packs. Jesus rebuked the Jewish religious establishment by calling them "ravenous wolves".   Jesus condemned the elites for being predatory. It was a group-think problem.
The fact is that mobs are far more dangerous than individuals are to civil society. That includes the mobs of pastors and elders at your local Calvinist church. Not only do they feed off of each other's affirmation and feed off the benevolence of the laity, but the moment you decide that you don't want to absorb whatever they say, suddenly they put you outside the pack, and yet somehow you are the predator. This is a fantastic inversion of reality.
The "No Man Is an Island" Argument
This is also known as the "Out There By Yourself" argument. It is designed to package self-sufficiency with subjectivism.   If you are subjectively driven, that must mean you are intellectually in error. This is designed to inspire you to believe that individuality is the same as isolation. Isolation implies immorality.
If you are isolated you have nothing to tell you that you are wrong. The implication is that the reason for individuality is to hide from a moral critique. You will see this accusation a lot. The thinking is that if you were part of a group, the group would be able to tell you what you are unwilling to hear. Somehow groups can't be wrong because they borrow collective morality from among the individuals.
It also implies that individuality is a danger and a liability. You cannot know the truth because your mind is in isolation. Isolation is selfish. Your gifts and talents are not being used for other people. This is erroneous because it assumes that people are entitled to what you have and what you are.
The real disaster of this logic is that it eradicates personal boundaries. One of the reasons that people end up so exploited in church situations is because they are told they have no right to set a boundary on what other people can consume in their life. So what you end up with is no ability to say, "No, you are not allowed to do that to me. You are not allowed to take that from me." And then you are not allowed to complain about the exploitation because, by definition, your existence is at the disposal of the collective.
"The Princess and the Pea" Argument
One day they preacher comes up to you and says he is concerned about you. And since his job is to speak hard things to you, he is going to tell you that you haven't been to church in a while, and he is very concerned about your soul. The person who hears this sort of reluctantly acknowledges this and agrees that, no, it's probably not a good thing that he hasn't been in church as much as he should.
This person has just conceded the premise that his attendance at church had to do with comfort. If this is you then it is highly likely that, as you are trying to figure out how to pull yourself out of this local Calvinist juggernaut of destruction, you have very real intellectual disagreements. You have very specific reasons as to why you are no longer interested in being in attendance at this church. But you haven't yet had the courage to get around to getting away from church because you've been so conditioned to being there.
So you go out and start shopping around to figure out if there is someplace else you would like to go; a place that is more agreeable to you. But by letting the preacher frame the conversation around your comfort you are basically saying that your reasons for not wanting to be here has nothing to do with rational objections.
What he is really saying is that your theological pedigree is related to your feelings. This is a fundamental problem. You are not having a "feeling" objection, you are having an intellectual objection, and he is trivializing your objection.
This is why I call this "The Princess and the Pea" argument. In the classic fairy tale by Hans Christian Anderson, the princess' claim to authenticity was validated by her sensitivity to being able to feel a pea under twenty mattresses. What she "felt" was more important than any tangible qualities of a princess. Likewise, pastors will trivialize your motives for leaving by focusing on your heightened sensitivities rather than tangible intellectual reasons. Comfort = feelings = listening to doctrines that are pleasing.
Now that they have framed your objections in terms of "comfort" what they are really saying to you is that if you are leaving because you are uncomfortable, what they are telling you is that you are unwilling to hear the hard truth. This is the point where they trot out the passages of scripture about people gravitating towards other doctrines because of having "itching ears". See, if you were a "true Christian" you would want to hear hard truths. You would embrace the uncomfortable. You would submit to what we have here because we will discuss your pervasive depravity.
You must push back on this assumption. You must not let them frame the argument in terms of feelings. You must let them know that the reason you are leaving is because you have rational intellectual disagreements with their orthodoxy. Any claim made about you not liking hard truth is really a strategy to appeal to your pride. It is designed to get you to justify yourself by declaring your willingness to suffer.
Hard truth = things that are painful.
Things that you don't like elevates suffering to a virtue. They want you to concede that if you were really interested in growing spiritually, you would be willing to stay and listen to what they have to tell you. They want you to concede that truth is painful; that you shouldn't get any benefit out of it. They want you to concede that individuals are weak because they don't like pain. They want to equate rejection of pastors as rejection of truth. This is what you must resist at all costs!
The Cramped Little Lives Argument
The implication with this argument is that your individual life equals "small"; community life equals "big". This is another example of the alternate reality they want you to accept. How many times have you heard somebody say that you should do something that is bigger than yourself? They want to imply that individual life is petty and collective life is significant. It presumes that importance comes from collective consciousness. Something is only important if lots of people want to do it. A failure to embrace the collective consciousness is a failure of your moral existence.
But the reality is exactly the opposite. Community life equals borrowed existence. Remember, Calvinist preachers have to borrow their authority, they have to borrow their righteousness, and they have to borrow somebody else's mind. So any time they are in the business of telling you that you have to borrow the collective life to have significance, what they are really saying is you have to embrace somebody else's vision to empower your life. That isn't big, that's small. If that is true of you, you just told me that you are vacant inside. It means you do not have the individual energy to go out and identify virtues and values and pursuits that are worthy of your existence.
The Gossip and Slander Quicksand
Most people know they want intellectual independence, but then they encounter one of these arguments, so they bounce back and forth trying to decide how much they conform to the group versus their own ambition. As long as they have conceded some level of their own incompetence and guilt, it is very hard to dig themselves out of this trap.
Some people start to "get it" at some point and genuinely push back against the arguments that seek to keep them part of the collective. This is where Calvinists begin to accuse you of gossip and slander. But remember, since they are in control of reality, they get to decide what constitutes gossip and slander. As long as they don't like what you happen to say to somebody else, as far as they are concerned you are gossiping. Trying to get into a "Biblical" discussion about the actual definitions of gossip and slander is useless.
But Calvinists reprobates who call themselves preachers only want silence on the true things. They don't want to talk about when they are actually committing evil. They don't want anyone calling to account their moral virtue.
The "I Don't Like Your Tone" Argument
There are a couple variations on this. "What you say might be true, but how you say it drives men away." Or, "Humble people don't talk that way." "You are proud/arrogant!" These are all variations about tone. The premise is that they get to determine what is the right way to talk. It is an attempt to invalidate your argument because you have some perceived character flaw.
Understand this; when they start objecting to your tone, they have no other objection. It is their last gambit to authority. It sets up their judgment as the standard of correct discussion, and if you concede that your tone might have been wrong, you have just conceded their authority. If they are right about your tone then why aren't they right about the subject of your objection? If you accept the premise, they can then dismiss or reject anything that does not fit their standards.
I will tell you the truth: you will chase your tail trying to become socially qualified. The moment you concede that someone else has the right to determine how you talk, you will end up in this endless cycle of trying to meet some standard of conversational etiquette that you can never accomplish because they will constantly change the standard to meet their own expectations. It is a powerful method of social control. They can eliminate any scrutiny by dictating qualifications.
The "You Are Bringing Harm to the Cause of Christ" Argument.
This is the implication that by being so visible in your disagreement with leadership that you will do irreparable damage to the church's reputation. As a result, young people will want to have nothing to do with Christianity because of the strife and contention they see.
Every time I hear some variation of this argument, the more I realize how much the doctrines of determinism and pervasive depravity are really an intellectual fraud. If you are a Calvinist, is there any human agency in God's salvific plan? The answer is clearly, no. It does not matter what your favorite Calvinist personality stands up and says. They are useless. Period.
That being said, does it matter what I say? Does it matter that I disagree with the pastor on a certain issue? No. No matter what you say or how you say it or the tone that you use, it is irrelevant if there is no human agency involved in salvation. According to Calvinism, if young people are going to hell, it is because God wants them to.
How then do you rebut your Calvinist tormentors?
Never debate scripture. There is no persuasion – only authority.
Never debate authority. You don't have any, and they will never recognize it if you do.
Refuse to accept their moral judgment of you. If pervasive depravity is true, they don't get to borrow morality in order to condemn you. By accepting their moral judgment you are framing the interaction that their judgment is the one to which you aspire.
Reverse the frame. The moment they lob a moral accusation against you, call them to account for their moral depravity. By their own admission, they are the ones who are evil, so call them on it.
Never apologize or equivocate on independent judgment.
Debate reality. Never let them get away with redefining reality.
Defend individuality.
Moral depravity is a central doctrine. They have no intellectual integrity when they claim any moral credit. I understand the struggle people have with this because Calvinists have done such a masterful job of claiming the moral high ground. But what I am telling you to do is to double-down on their own moral condemnation. Take the doctrine of depravity seriously, and remind them of it every time they talk. Say it out loud, "The only reason you say that is because you are evil." Never let them pretend they have moral worth. They can make no vicarious claim to Jesus' righteousness.
If you have an intellectual conclusion, don't apologize. When they accuse you of being an individual and thinking for yourself, say, "Thank you." "I'm glad you recognized that." "I'm glad that your pervasive depravity allowed you to see truth for a moment."
Any time they want to dance back into what "the Bible says," stop them. You say, "No, that's not what the scripture says. Your sin-corrupted evil mind projects into scripture." As a free man, my judgment is effective.  I reject the absurd moral judgment that comes with the accusation that humans make mistakes. Human understanding is not measured by omniscience.
In America we are being led down a path where the rugged individualism that is implicit in the understanding of the U.S. Constitution is under full assault. We must become good at defending ourselves and the right to be ourselves and the right for others to be themselves.   Individualism is not a liability; it is a virtue!
…To be continued.
---